February 1, 2011
Christopher Elbow No 15 Dark Nib 61 Dark Chocolate Bar Review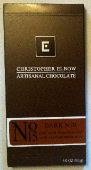 I picked up this chocolate bar during a trip to the US to try and find unique and different chocolate there.  Having a lot of "artisanal" chocolate makers there I couldn't help but wonder if their chocolate skills were up to the Canadian or European standards I had come to expect.
According to the website, Christopher Elbow chooses his chocolate directly then creates his confections – and confections they seem to be.  The chocolate is sweet and ever so slightly cloying.  The sugar in this 61% was a bit of a shock and the chocolate was slightly flat with intense vanilla overtones.  I am unsure that this chocolate was intended to be eaten slowly, letting it melt and if so, it was likely for those more used to high sugar intakes.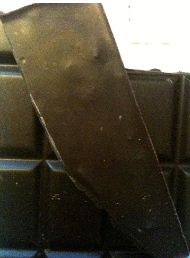 The cocoa nibs added a little to the experience of the chocolate but the sugar was such a dominant flavour that is was hard to get beyond it and the vanilla to the flavour of the chocolate underneath.  I have a feeling that this chocolate would appeal to those trying to break free of milk chocolate and looking for an intermediate chocolate between the intensity of a dark chocolate and the sweet lightness of a milk chocolate.
If you're in the US and you're a milk chocolate fan, give this bar a try as an intermediate step between milk and dark – especially if you prefer sweet chocolate.  If you're already a fan of Amano, Amedei, Askinosie, Soma or other top notch chocolate makers you might find this cloyingly sweet.