January 11, 2011
Carluccio's Chocolate Coated Bread Sticks Review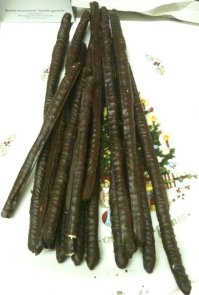 Now, when I went to Carluccio's to buy some goodies for Christmas I decided to try some new things and one of the new chocolate things was the chocolate coated breadsticks I found.
These chocolate covered breadsticks were a bit pricy at £10 for a box so I split the box with Chocablog and decided to review my half.  Well…  suppose I should say something or the image will be bigger than the review.
These breadsticks are not uniform in size and shape so despite being mass-produced, they have tried to make them seem slightly unique to emulate something home made.  These breadsticks have been completely dipped in dark chocolate to give them a not-to-thick coating.
The one thought I had was that I thought they could do with some salt so they were more chocolate coated pretzel than chocolate coated bread stick.  That's about it.  The dark chocolate is uninspiring.