March 28, 2012
Baruzzo Floral Selection Review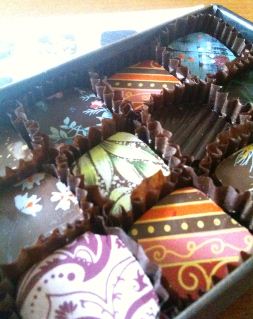 I received a box of these floral chocolates from Rafaella herself. After discovering all eggs were already sold out in the UK and so I could not get any for review, she dropped this around to my office so I could try and review them.  I got a lovely card with them but I went to the website to see what exactly I was getting and found a guide to eating and experiencing them. The site says "Enter our secret and magic garden: open a TuttiFiori Baruzzo box and let the flower scent overwhelm you in a delectable and indulgent defeat."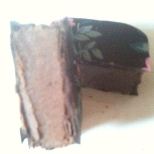 Marigold – paired with honey from the North Italy for a balanced and herbal ganache. Very green this one with a hint of floral, this is very subtle as a chocolate and chows off more of the chocolate's flavours than the flower or honey in my opinion.
Camomile – the best Roman Chamomile cold pressed and infused light, comforting and inspiring new creation. I know this from my aromatherapy days. Not my favourite essential oil and I find in a white chocolate ganache it is OK but because I know what I'm looking for, that herby floral comes through for me. Not strong but distinct.
Viola Odorata – a Violet from the North of Italy with a fresh, herbal hint aiming to a perfect combination with dark chocolate in flirty scent as its fragrance comes and goes.  I'm surprised here by the white chocolate ganache and violet flavours bring a new twist on an old favourite. This creates a fresher floral flavour and less cloying or sickly than others.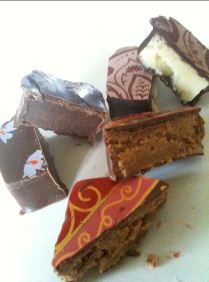 Rose – a white ganache scented with pure Rose Otto (Rosa Centifolia) to bring to the nation's favourite an Italian twist. Rose Otto wasn't used by me as much but here it gives a Damask Rose scented flavour to the white chocolate. Not unpleasant and very reminiscent of rose cremes.
Orange blossom – follow the scent to taste our most popular praline: crunchy hazelnuts mixed with candied orange peels and sprinkled with a few drops of orange water to evoke the intensity of Mediterranean gardens. O think that orange blossom needs a white chocolate base. Here you get a hint of that lovely orange blossom but it becomes quickly smothered by the crunchy hazelnut praline. I love the hints I get and I want more but it just cannot struggle through the orange peel and nuts.
Jasmine – Sicialian Gelsomino, a tea base infused of pure Jasmine oil from Palermo in an unforgettable milk ganache.  I love jasmine and here you get that light, clean jasmine essential oil flavour coming straight through as a fragrantly floral top note. I think this is slightly overdone when I compare it to Matcha's jasmine tea but it is not perfume-y, just strongly floral like pollen in a ganache.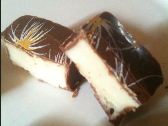 Vanilla – ignored in the flavour journey on the website, the vanilla is a white chocolate ganache with a strongly vanilla flavour like vanilla ice cream in a ganache. Not bad but not my favourite.

Saffron – also ignored on the flavour journey on the website, the saffron seems to be in a praline. It makes this less than pleasant as it hits your nose and combines to create a weird flavour and scent sensation in the nose. Hard to describe but just odd…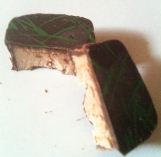 Rosemary – the last of the ones missed off the website, this is fresh and herbal with that distinctive flavour of rosemary lightly infused.  It is so easy to overdo this and they pull it off beautifully. Well balanced and delightfully herbal – almost palette-cleansing.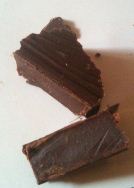 Amarissimo – a distinctive complex 80% Criollo ganache in a crisp and firm coating. This dark chocolate is interesting with a slightly red fruit flavour in the very distinctive cocoa nib flavour you can get with higher quality beans in a higher cocoa percentage.
All in all a box that is quintessentially spring with robust florals, herbals and a delightful pure ganache.