Tag Archives:
summer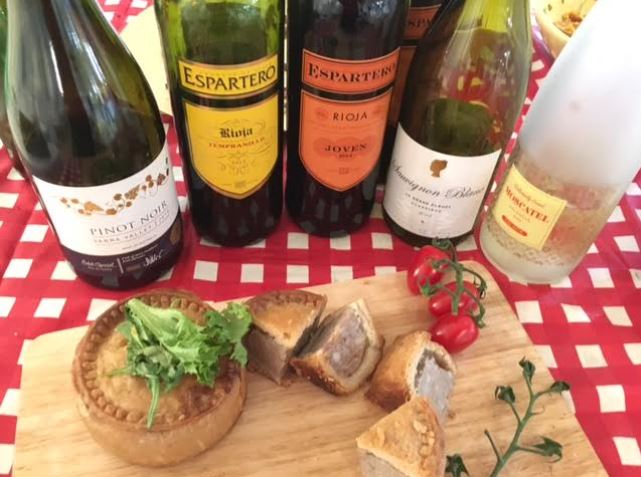 Picnics and wine or beer - it's probably the most common pairing of a summer afternoon in the park. I'm not the world's biggest picnic fan what with the bugs in your glass of rose gammay or soggy sarnies. The ...
Subscribe
This Site Uses Cookies for Analytics
If you don't want to be analyticsalised with a cookie from Google, best pop off to another site.
Check out my Recipes, Reviews and more!
Links on this Blog
All links on this blog are editorially given. Do not contact me for link exchanges. Reviews do not guarantee links. I do not add links to articles already written unless I want to, and any requests to do so will be refused (and may result in the review being withdrawn). I reserve the right to remove links from reviews at any time for any reason including but not limited to whim. I am not your link bitch, don't try and treat me as such.



SCIOCOLA the chocolate festival in @visitmodena in Italy is *HUGE*! Boasting over 75 stalls of chocolate and related products, there are a huge variety of types and styles of chocolate. @sciocolafestival is one of many food festivals and features the amazing local artisan producers including members of the local artisan food producers who are a part of a collective called @cna_modena which is dedicated to promoting the amazing local food.
🍫🍫🍫
At the central chocolate festival event tent where the to-scale life sized chocolate F1 Ferrari (Modena is the spiritual home of @scuderiaferrari it seems) is located you can learn about how chocolate is made from the pods on the tree to the tempered final result.
🍫🍫🍫
Once you have learned about this process, pop over to the Dolcem stand for some of their single origin chocolate. You can choose from Uganda, Tanzania, Venezuela, and others!
🍫🍫🍫
Ramble along the stalls until you reach @marisa__tognarelli_ who is the lovely woman in the picture here and buy some of her 24k gold topped traditional balsamic vinegar which has a hugely proud heritage in Modena. The thin chocolate shell made of Peru or Tanzania chocolate topped with 24k gold cracks easily releasing the liquid high quality authentic balsamic vinegar into your mouth to mix with the chocolate ganache. Absolutely blissful!
🍫🍫🍫
An annual festival, you really need to visit this gorgeous town which dates back to Etruscan times for the food, the scenery, and the chocolate festival!
🍫🍫🍫
#chocolatefestival #sciocola #cnamodena #sciocolafestival #visitmodena #chocolatemodena #balsamicvinegarofmodena #balsamicvinegarchocolate #balsamicotradizionale #balsamicochocolade #darkchocolate🍫 #🍫🍫🍫 #chocolateloversclub #chocolatelovers #chocolateloversunite #ilovechocolat #marisatognarelli #dolcem #loveitaly🇮🇹 #emiliaromagnafood #regioneemiliaromagna — view on Instagram https://ift.tt/2pqdTyq




Are you a chocolate lush like me? Sometimes I find myself at @rabot1745 and grab a famous @hotelchocolat hot chocolate and sit and enjoy people watching. Fun fact - in the evening they serve wine!
🍫🍫🍫
But this dense chocolate brownie was exactly what I was craving… a densely darkly gooey chocolate brownie with a lush milk chocolate hot chocolate which wasn't too sweet.
🍫🍫🍫
The place was *full* but I got lucky and someone left just as I got there! And so I sat and enjoyed my absolutely decadently indulgent lush brownie and hot chocolate.
🍫🍫🍫
What is your secret naughty pleasure? Salted caramel with a spoon from the jar? (Done it) Left brownie mix in the bowl so you could eat it raw? (Done that too…) what secret indulgent pleasure do you revel in?
🍫🍫🍫
#londonforyou #thisislondon🇬🇧 #seemorelondon #londonlivingedibles #ilovelondon #lovelondon #londonist #londonlive #london_only #londonforyou #londoncity #londoncitylife #lovelondon #london❤️ #london🇬🇧 #chocolatelover🍫 #chocaholics #darkchocolatelover #chocolatelover😍 #instachocolat #chocolateaddicts #ilovechocolates #chocolateporn🍫 #chocolateheaven #hotchocolate☕ #chocolatebrownies #hotelchocolat — view on Instagram https://ift.tt/2JoiZlk
badges
Grammar Warning: I am clearly aware that my grammar is sub par. Please excuse any typos or miss-spelling of words you may come across when reading this blog. There is no need to write or notify me. Thank You Kindly.