Tag Archives:
Stephanie Almeida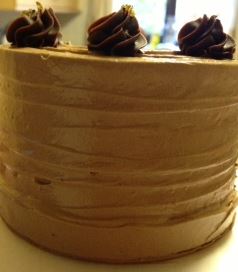 I had the great honour to have the lovely Stephanie bring me some of her best-loved cakes in cupcake form. Now, I eat a lot of cupcakes – probably too many – and I have to say that these were ...
Comments Off

on Stephanie Almeida Bespoke Cakes Buckinghamshire
Subscribe
This Site Uses Cookies for Analytics
If you don't want to be analyticsalised with a cookie from Google, best pop off to another site.
Check out my Recipes, Reviews and more!
Links on this Blog
All links on this blog are editorially given. Do not contact me for link exchanges. Reviews do not guarantee links. I do not add links to articles already written unless I want to, and any requests to do so will be refused (and may result in the review being withdrawn). I reserve the right to remove links from reviews at any time for any reason including but not limited to whim. I am not your link bitch, don't try and treat me as such.



Nothing can compare to @konditor_and_cook to start the week back to work after time off. They rescued me! I love the balance of flavours but these really are my favourites.
.
In about 3 days I'll need a dozen to make it through to the end of Friday!
.
What is rescuing you today - the first day back to a full, long, 5-day week?
.
#foodideas #foodinspiration #simplefood #simplefoods #epicurious #foodblog #foodbloggers #londonfoodie #foodinspiration #foodinstagram #chocolatelover #chocaholic #darkchocolate #chocolatelovers #instachoco #chocolateaddict #chocolateporn #chocolateheaven #ilovechocolate #chocolatecupcakes #minicupcakes #choccupcakes #chocolateraspberry #konditorandcook #ilovecupcakes #cupcakelove #cupcakelovers http://bit.ly/2RARxpV




Whether your champagne is from @harrods or @aldiuk you'll find these super reasonable champagne flutes from @lovewilko are absolutely perfect for any occasion. And both champagnes are delicious but I do prefer some @sfrisowinery prosecco 😉
.
.
#champagne🍾 #aldichampagne #harrodschampagne #nye2019 #harrodslondon #aldiuk #prosecco #proseccopop #prosecco🍾 #wilko #champagnes #champagneflutes #nyedrinks #2019 #newyearseve2019 http://bit.ly/2Qf0ws5
badges
Grammar Warning: I am clearly aware that my grammar is sub par. Please excuse any typos or miss-spelling of words you may come across when reading this blog. There is no need to write or notify me. Thank You Kindly.