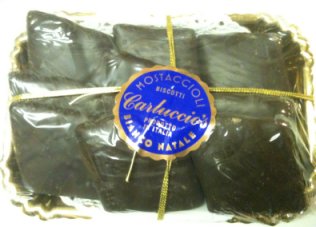 Now, when I went to Carluccio's to buy some goodies for Christmas I decided to try some new things and one of the new chocolate things was the chocolate coated biscuits I found.
Now, I don't expect chocolate excellence but given that the large version of the chocolate panettone is nice, I thought I'd give them a chance.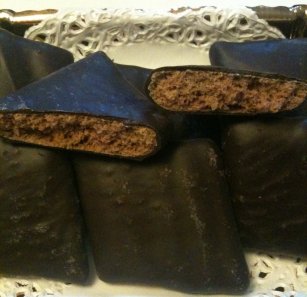 Interestingly, these cookies are not consistent.  They are both soft and crunchy, thick and light and thin and dense.  They are both tough to eat and easy to eat and I suppose this is one of the things I disliked about these cookies.  Not that I usually dislike anything chocolate coated but these cookies were a regrettable exception.
Also, despite the claim on the packet that they were cinnamon cookies, they had an odd flavour.  I am sure that perhaps they are an acquired taste and that I'd need to take some time to learn to like them but as it stands right now, I'll stick with the large chocolate panettone.
Facebook
Subscribe
Check out my Recipes, Reviews and more!
Links on this Blog
All links on this blog are editorially given. Do not contact me for link exchanges. Reviews do not guarantee links. I do not add links to articles already written unless I want to, and any requests to do so will be refused (and may result in the review being withdrawn). I reserve the right to remove links from reviews at any time for any reason including but not limited to whim. I am not your link bitch, don't try and treat me as such.
Grammar Warning: I am clearly aware that my grammar is sub par. Please excuse any typos or miss-spelling of words you may come across when reading this blog. There is no need to write or notify me. Thank You Kindly.



I made #chocolatechipcookies and photographed them with a picture of where chocolate comes from! The #cocoapod you can see opened up has #cocoabeans inside it covered in a white mucilage which breaks down during #fermentation and helps the beans create amazing flavour. The process takes about a week after which time the fermented beans are dried and shipped out to somewhere they then can take them and make them into amazing #chocolate🍫 like at @greenandblacks
Those cocoa beans are then made by #greenandblacks into different #chocolatebars including the baking chocolate I chopped up to make these cookies.

Next time you buy #🍫 from the supermarket make sure you buy #ethicalchocolate that is #fairtrade or #fairlytraded like @greenandblacks @divinechocolateuk or @williescacao and eat or use that instead. http://ift.tt/2D9F96o




Happy holidays and may all your cookies be delicious! I think probably shortbread are the easiest and last the longest of all the cookies I bake. They age well in a tin for a few weeks but rarely last long enough TO age!
Ingredients:
300g plain flour
1 tsp salt
100g caster sugar
200g unsalted butter
Method:
Preheat oven to 170C
Sift together the salt, flour and sugar.#rub in the butter (so made sure it is still chilled).
Once blended, place the ball of dough in the fridge for 30 min.
Roll out to about 1cm thick. I sometimes go with .8cm thick.
Cut into shapes.
Place on a parchment-lined baking tray.
Bake for 20-25min.
Remove and let cool.
.
.
.
#christmascookies #christmasfood #christmasyummies #christmascookies🎄🍪 #christmascookies🍪 #christmascookie #christmascookies🎄 #foodideas #foodinspiration #easyrecipe #recipe #easyrecipes #quickrecipe #quickrecipes #simplefood #simplefoods #epicurious #foodblog #foodbloggers #londonfoodie #foodinspiration #foodinstagram http://ift.tt/2Cf42Q8
This Site Uses Cookies for Analytics
If you don't want to be analyticsalised with a cookie from Google, best pop off to another site.
badges