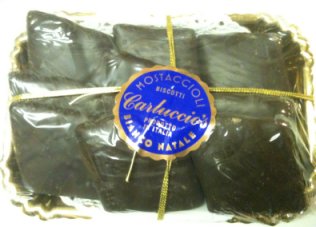 Now, when I went to Carluccio's to buy some goodies for Christmas I decided to try some new things and one of the new chocolate things was the chocolate coated biscuits I found.
Now, I don't expect chocolate excellence but given that the large version of the chocolate panettone is nice, I thought I'd give them a chance.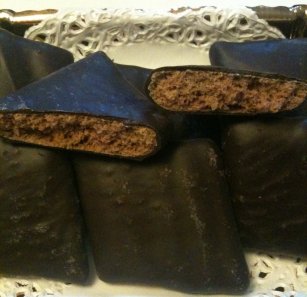 Interestingly, these cookies are not consistent.  They are both soft and crunchy, thick and light and thin and dense.  They are both tough to eat and easy to eat and I suppose this is one of the things I disliked about these cookies.  Not that I usually dislike anything chocolate coated but these cookies were a regrettable exception.
Also, despite the claim on the packet that they were cinnamon cookies, they had an odd flavour.  I am sure that perhaps they are an acquired taste and that I'd need to take some time to learn to like them but as it stands right now, I'll stick with the large chocolate panettone.
Facebook
Subscribe
This Site Uses Cookies for Analytics
If you don't want to be analyticsalised with a cookie from Google, best pop off to another site.
Check out my Recipes, Reviews and more!
Links on this Blog
All links on this blog are editorially given. Do not contact me for link exchanges. Reviews do not guarantee links. I do not add links to articles already written unless I want to, and any requests to do so will be refused (and may result in the review being withdrawn). I reserve the right to remove links from reviews at any time for any reason including but not limited to whim. I am not your link bitch, don't try and treat me as such.



This is probably the world's best #prosecco with probably the best flavour I've ever experienced. I'd like to fly over and bring back a few cases because it is absolutely worth it. If you want to taste the world's best #prosecco🍾 you'll need to buy it direct from the winery. It's not the cheapest but it is the best!
.
.
#bestprosecco #proseccotime #sfrisowinery #bubbles #sparklingwine #proseccopop #proseccosuperiore #iloveprosecco #doc #proseccodoc #proseccodocg #loveprosecco #proseccogram #notchampagne #🥂 #🍾 #🥂🍾 https://ift.tt/2nDS35I




The #nicholsongin Festival is happening NOW at @nicholsonspubs all over the UK! Enjoy some expert blending of #ginandtonic at #nicholsonsginfestival with experts having created some of the most amazing creations between a huge range of gins and different tonics. .
.
Matches made in expert hands, pop in for a huge range of guest gins like this #rokugin paired with a #fevertreetonic but for a limited time - only until Sept 2 when the 12 special #smallbatch guest gins will be retired. There are 40 #gins to try so get tasting! .
.
FOR MORE INFORMATION GO TO: https://ift.tt/2K5kX7U
twitter: @Nicholsonspubs
https://ift.tt/2jKjHho
Instagram: @Nicholsonspubs
.
.
#gandt #ginandtonics #ginandtonictime #ginfestival #nicholsonspubs #smallbatchgin #artisangin #ginstagram #gincocktails https://ift.tt/2K6sItY
badges
Grammar Warning: I am clearly aware that my grammar is sub par. Please excuse any typos or miss-spelling of words you may come across when reading this blog. There is no need to write or notify me. Thank You Kindly.