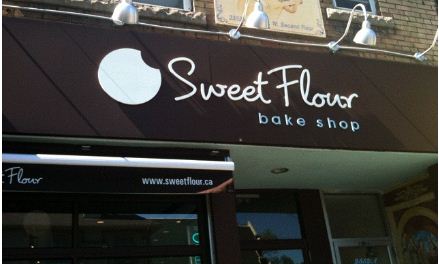 I have been into the Sweet Flour cookie shop shop a couple of times now and I have to say the novelty fails to wear off. I don't think it ever can wear off since this has to be the best idea anyone has ever had – design and bake your own cookie right there and then. Lacking inspiration? No trouble, they have a list of some customer favourites. Lacking time? No trouble they have some of the yummiest shortbread rounds and fudgy chocolate cookies you'll taste anywhere.
The experience is really more than being able to buy just a muffin top and indulge your passion for the best part of a muffin. Yes, I am one of those people who takes the top off the muffin and eats it and leaves the base behind. My plate is the one with the muffin bottoms left on it, untouched while the top has been devoured. And not just any top – I like them hot and fresh with that slightly crunchy top that says it is both fresh and fully baked. That is sold close to the front of the shop in a lit, warm cabinet. Oh heaven!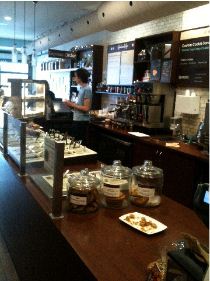 The experience is more than just selecting from their pre-baked cookies festooned on the cabinet to the side of the register where you can select some of the best cookies Toronto has to offer. It goes beyond selecting some pre-made cookie dough to make at home and it goes beyond all the delicious gifts they have. The real experience here – the heart of what it is about – the core of the experience that is Sweet Flour is the making of your own custom cookie.
There is an array of additions on offer. You can see the length of the counter in the photo above and you can see that there is a lot of cookie filling to choose from. There is dried fruit, different types of chocolate, nuts, smarties, and more. There is just too much choice but wait – you need to start by picking what *type* of cookie you want. Will it be a healthy-seeming one, a classic or something else? The cookie base will then determine your filling. Oatmeal with goji berries, blueberries and other superfoods? Yuck but whatever. I went classic – classing base, some chocolate fillings and watched it being made. Awesome.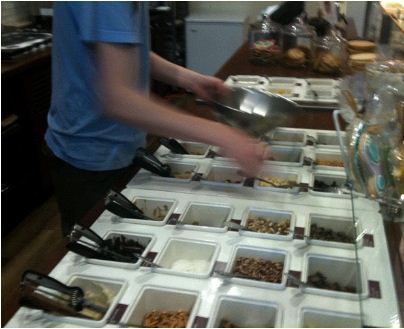 The mix was whipped up by the expert behind the counter who then cooked it for the perfect amount of time before placing it on a special very icy cold block of marble. This cools the cookie so you can eat it, still hot but safe from hot melting chocolate. Still melting but not scald the mouth hot. This was DELICIOUS. Oh my goodness now I know why it was HEAVING each time I came in here. It was so delicious I wasn't sure how I was supposed not eat another and another but getting to the end of the cookie I found that I was nicely satisfied. Miracle of miracles it was delicious and filling.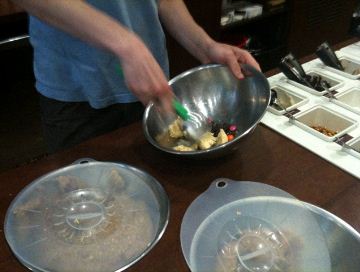 Not wanting to leave the experience behind, I bought some cookies with me. They have gingerbread to DIE for at the holidays. It is the right proper stuff and you're going to want to buy lots of those little men. Much better than anything I've had from a supermarket and just right for the holidays. They have Chanukah and Christmas stuff but I don't know if they do matzo cookies for Passover though they *do* do Easter cookies.
This is about more than just making your own lovely cookie but baking is the heart and soul of the business. I really highly recommend a visit there whether to buy ready-make packages of cookies or shortbread, choose a style of cookie someone else made or choose your own combination. It is just tons of fun – and yummy too!
Facebook
Subscribe
Check out my Recipes, Reviews and more!
Links on this Blog
All links on this blog are editorially given. Do not contact me for link exchanges. Reviews do not guarantee links. I do not add links to articles already written unless I want to, and any requests to do so will be refused (and may result in the review being withdrawn). I reserve the right to remove links from reviews at any time for any reason including but not limited to whim. I am not your link bitch, don't try and treat me as such.
Grammar Warning: I am clearly aware that my grammar is sub par. Please excuse any typos or miss-spelling of words you may come across when reading this blog. There is no need to write or notify me. Thank You Kindly.



I went to the launch of the #CAMRA Good Beer Guide Belgium which is widely considered to be the definitive travel guide to Belgium as well as #belgianbeer and is in its 8th edition. Not only does it have pubs and bars but also 240 Belgian breweries. It's been completely updated since 2014 so now is the perf cr time to purchase a copy.

This is pretty much the only guide to Belgium you'll need whether you go for beer or not. Belgium is a great place to travel so why not visit and use the #goodbeerguide Belgium .
.
.
#visitflanders #visitbrussels #visitghent #visitmechelen #visitleuven #visitbelgium #goodbeer #camragoodbeerguide #trappistbeer #bestbeer #beerlover #beerlovers #beer🍻 #beer🍺 #beerguide #travelbloggers #womenwhotravel #womenwhodrinkbeer #ladieswhotravel #globetrottinggirl #ladiesgoneglobal #womenwhoexplore #iamatraveller #travelbloggersuk #travel✈️ #travelblogging #traverse18 https://ift.tt/2qNQSly




I have been absolutely blown away by #hungarianwine on my visit here in #budapest
This is a city you absolutely must visit at least once for a week because of you don't stay a week you'll miss so much!
After the heartbreaking legacy of bulk wine production under communism - I have a family story here too with my step-grandfather, Hungary has exploded with excellent wines available everywhere.
This beautiful city is a must-visit for any #foodie passionate about #winetasting or really just any #foodietraveller
You must visit this beautiful city!

#oneophile
#tastehungary
#winetravel
#hellohungary
#iwinetc
#iwinetc2018
#hungarianwine
#winesofhungary
#winefestival
#hungaryisawesome
#traditionalfood #redwine🍷 #whitewines #hungary🇭🇺 #hungarianfood #winesofhungary #visitbudapest https://ift.tt/2GMmsqt
This Site Uses Cookies for Analytics
If you don't want to be analyticsalised with a cookie from Google, best pop off to another site.
badges