Category:
Recipes
It isn't often that mayonnaise and brownies go together. In fact, I can't think of a single reason why they would. Yet I found myself one day at an event with Hellmann's who were launching a range of ...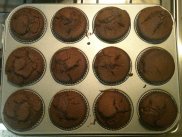 You know those days when nothing but a mug of tea (or coffee) and a lovely chocolate muffin will do?  I have a lot of those and as a result I've found myself cooking brownies, cookies and muffins all too ...
Brownies are something I really love.  REALLY REALLY! As someone who is in love with Paul A Young's chocolate brownies (and the ones with pecans but not the blondies *ewww*), I decided to have a bash at making some myself.  ...